Sinead Loughran leads class in Hippocratic Oath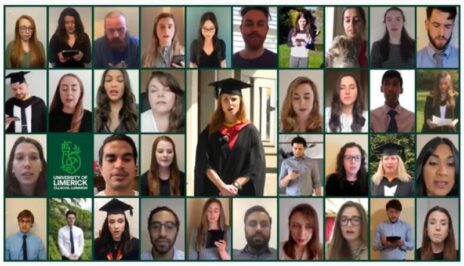 Huge congratulations to past pupil & former hockey international Sinead Loughran, class of 2009, who smashed two of her goals by qualifying as a Doctor and by being named on the Dublin GAA Senior panel.
"To graduate as a Doctor after a tough 4 years, was overwhelming in itself, but to be additionally asked to deliver the conferring speech was just mind blowing, and such an honour
Thanks to everyone who supported me through this degree…especially my family and friends
And for any kid sitting the leaving cert today, here's something they don't tell you…you don't need 600 points or to be the smartest in your class to study medicine, and if you want to play high level sport while doing a degree, do, because it's all possible despite what some say "
Here is a little summary of what Sinead has achieved to date, I have no doubt there will be more!
In 2009, Sinead graduated from Mount Anville and received a hockey scholarship at University of North Carolina, the number one ranked athletics college in the U.S, winning major trophies in each of her 4 years there. Eight of her team-mates were on the U.S. Olympic squad.
Following her time in the US she spent some time with Sporting Munich in Germany before returning to join the Ireland Ladies Squad. She played all matches in the tournament in South Africa when the team qualified for the 2018 World Cup Finals in which they were runners up. Unfortunately, returning from injury, she was non-playing reserve for the tournament. In 2019 she retired from international hockey to focus on her medical studies.
As if that wasn't enough, after an absence of 14 years from Ladies Gaelic Football, she won the 2020 Dublin County Championship with Foxrock Cabinteely and is now in the Senior Dublin Ladies squad.
Academically, she received a Degree in Communications from University of North Carolina. On her return to Ireland, she received a first in her UCD Masters in Coaching and Exercise Science. In 2017 she successfully sat the Gamsat and entered the Graduate Entry Medicine Degree Programme at University of Limerick. On Tuesday, she graduated, and will take up an internship at Tallaght Hospital.
She was honoured to be chosen by the faculty to lead her fellow graduates in the Hippocratic Oath and to deliver the conferring speech on their behalf.