Harriet Mannion launches Downward Dog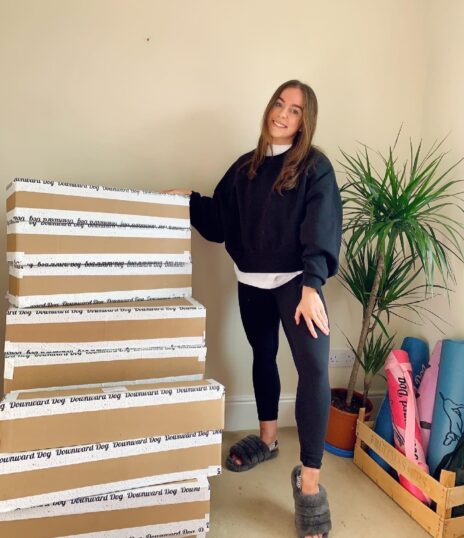 Congratulations to past pupil Harriet Mannion, class of 2016, on the launch of her new business Downward Dog.
I graduated from Mount Anville in 2016 and have recently graduated from a Marketing degree in TUD.
During the start of lockdown, whilst I was finishing my final year dissertation I found home-workouts were a great escape from the reality of Covid-19. My sitting room was transformed into a home-gym and really was my happy place. However, the one downfall of this happy place was my exercise mat. Every time I would workout my mat would bunch up, slip across the floor, offer poor support and in general was just a mucky old mat which had seen better days.
I began to look for a high-quality, sustainable, stylish and affordable mat but found there wasn't really anything in the Irish market. This was a lightbulb moment for me as I felt there was an opportunity for a business like this in Ireland, especially with digital home workouts on the rise. A few months down the line, Downward Dog was born!
Downward Dog offers a range of funky, sustainable and stylish exercise mats.
These mats come in a range of colours and designs which I have designed myself.
When designing the Downward Dog mats, we wanted to ensure that they were made of eco-friendly materials. We choose to use natural rubber as it provides the ultimate grip and because natural rubber is 100% biodegradable. All of our mats are printed with water-based inks which is ink that is made with water rather than PVC or plastic. It was imperative to us that our mats were made of high-quality, eco-friendly materials as there are a significant amount of low cost, poor quality PVC yoga mats on offer which are extremely harmful to the environment and are sadly common. Please be assured that we do not test on animals and all of our mats are 100% Vegan. All of our postal packaging is 100% recyclable.
Instagram: @downwarddogclub
Facebook: Downward Dog Club